Over COC Midden-Nederland
Het COC zet zich al sinds 1946 in voor gelijke rechten, emancipatie en sociale acceptatie van lesbische vrouwen, homoseksuele mannen, biseksuelen, transgenders en intersekse personen (LHBTI's). COC Midden-Nederland focust zich sinds 1950 op het werkgebied Midden-Nederland. Dit omvat alle gemeenten in de provincie Utrecht, maar ook enkele gemeenten in Gelderland en Zuid-Holland.
Hieronder zie je een overzicht van de gemeenten in het werkgebied van Midden-Nederland:
---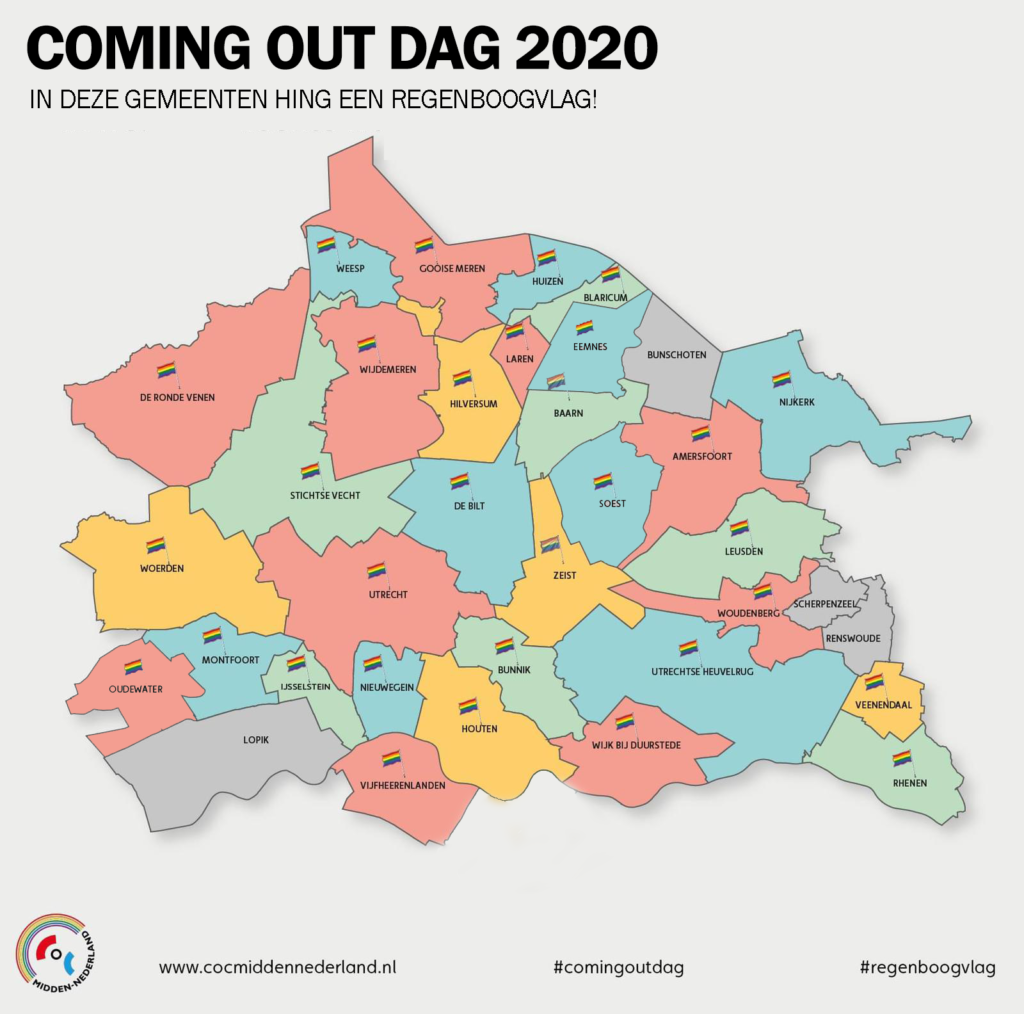 ---
Onze missie
COC Midden-Nederland houdt zich bezig met veiligheid, (politieke) belangenbehartiging en activiteiten voor kwetsbare doelgroepen waaronder jongeren, 50-plussers, vluchtelingen, vrouwen en LHBT's met een fysieke of verstandelijke beperking.
Ook geeft COC Midden-Nederland voorlichting op scholen en bieden wij eerstelijns psychologische hulpverlening. Daarnaast proberen wij alle vormen van discriminatie een halt toe te roepen. Dit doen wij in alle gemeenten in het gebied Midden-Nederland.
Benieuwd wat wij voor jou kunnen betekenen? Stuur een e-mail met je vraag of verzoek naar [email protected] en we komen zo snel mogelijk op je terug.
---
Onze geschiedenis
Op 18 januari 1950 werd de afdeling COC Utrecht, het huidige COC Midden-Nederland, opgericht. De eerste bijeenkomst vond plaats in een zaal van het N.V. Huis te Utrecht, ook wel bekend als het oude Tivoli Oudegracht.
Het eerste bestuur, bestaande uit Joop Damen Sterck, Sonja Witstein, Chris de Rijk en Bram Verhaar, waren in die tijd genoodzaakt om alle activiteiten in het geheim te organiseren. Ook gebruikte de vereniging een neutrale naam, want COC staat voor Cultureel Ontspannings Centrum.
In de werfkelder van Ina Boudier-Bakker aan de Oudegracht 333 te Utrecht werd wekelijks samengekomen. De meeste leden hadden schuilnamen en verkregen toegang middels een ledenkaart, op deze kaart stond enkel een letter en een getal. Een inval van de politie, want twee mannen die met elkaar dansten was ten strengste verboden, deed het bestuur besluiten tot een lange periode van wisselende onderkomens.
In 1966 werd een vaste ruimte verkregen in de werfkelder aan de Nieuwegracht 28. Deze kelder kreeg uiteindelijk een café-ontheffing en een dansverlof. In 1978 werden de activiteiten verlegd naar de Oudegracht 221 in Utrecht. Voor het eerst zichtbaar en eindelijk 'boven de grond'.
Sinds 2008 heeft COC Midden-Nederland geen vaste huisvesting.
---
Onze huidige bestuur
Het huidige bestuur bestaat uit de volgende samenstelling:
Laura van Nieuwenhuijze (voorzitter)
Hugo van Amerongen (vicevoorzitter)
Marijn Brok (aspirant secretaris)
Arie van der Vliet (penningmeester)
Maryse Leloup (algemeen bestuurslid)
Harry Mereboer (algemeen bestuurslid)
---
Onze werkgroepen
COC Midden-Nederland organiseert met hulp van tientallen coördinatoren en vrijwilligers diverse activiteiten voor een groot scala aan werkgroepen.
Hier een overzicht van de huidige werkgroepen binnen COC Midden-Nederland:
AutiRoze (LHBTIQ+ personen met autisme)
Cocktail (LHBTIQ+ vluchtelingen en asielzoekers)
Grown Up Queers (LHBTIQ+ jongeren tussen 18 en 32 jaar)
GSA (LHBTIQ+ scholieren)
Jong&Out Utrecht (LHBTIQ+ jongeren tussen 12 en 18 jaar in Utrecht e.o.)
Jong&Out Amersfoort (LHBTIQ+ jongeren tussen 12 en 18 jaar in Amersfoort e.o.)
Prettig Anders (LHBTIQ+ personen met een lichtverstandelijke beperking)
Roze 50+ (LHBTIQ+ ouderen van 50 jaar en ouder)
TransActief (transpersonen in Utrecht e.o.)
Hulpverlening en voorlichting
Consultteam (eerstelijns psychologische hulpverlening)
Meldplatform #WeBlijvenOnszelf (discriminatiemeldpunt)
Voorlichting (LHBTIQ+ voorlichting in het onderwijs)
---
Contactgegevens COC Midden-Nederland
Wil je graag een activiteit van COC Midden-Nederland bezoeken, maar weet je niet zo goed wat bij je past? Of wil je aan de slag als vrijwilliger?
Stuur dan een e-mail naar [email protected].
---