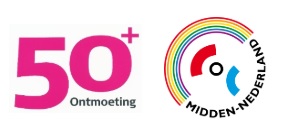 50+ COC MN (Midden-Nederland) is een werkgroep van COC Midden-Nederland die activiteiten organiseert specifiek voor LHBT's van 50 jaar en ouder. De werkgroep organiseert maandelijks diverse activiteiten, zoals een zondagmiddagcafé, roze eettafel en een wandelgroep.
50+ COC MN activeert, stimuleert en faciliteert mensen uit de achterban om contacten te leggen en het gesprek met de omgeving aan te gaan omdat emancipatie een proces is dat door de achterban zelf gedragen moet worden.
Lees hier de kwartaal nieuwsbrief van 50+ COC MN
Contact met 50+ COC MN?
50+ COC MN groeit de laatste jaren enorm, daarom zij wij altijd op zoek naar vrijwilligers. Wil jij meer informatie over 50+ COC MN?
Of wil je eens langskomen op een activiteit?
Stuur dan via deze link een e-mail naar 50+ COC MN of stuur een e-mail naar [email protected].