Herman en Ad trouwden gelijk in 2001: "Wij wilden niets anders dan het échte huwelijk!"
Precies 20 jaar geleden (1 april 2001) was Nederland het eerste land ter wereld (!) waar het huwelijk werd opengesteld voor personen van hetzelfde geslacht. Hier staan wij vandaag uitgebreid bij stil. COC Midden-Nederland roept iedereen op om vandaag de regenboogvlag te hijsen.
Tekst: Erik Persoon | Foto's: Herman Bosveld en Ad Voss
Die zichtbaarheid is nog steeds nodig, want het is helaas nog steeds bijzonder dat wij wél de vrijheid hebben om met een partner van onze keuze in het huwelijksbootje te stappen. Zelfs in 2021 is dit nog een voorrecht, terwijl dit in ieder land vanzelfsprekend zou moeten zijn. Daarom zetten wij vandaag twee kanjers in het zonnetje, die in 2001 gelijk van de kans gebruik maakten om hun liefde te bezegelen met een huwelijk.
Herman Bosveld (73) en Ad Vos (69) uit Utrecht stapten op 26 juni 2001 in het huwelijksbootje. Wij vroegen ze hoe het was om dit bijzondere moment te vieren in 2001.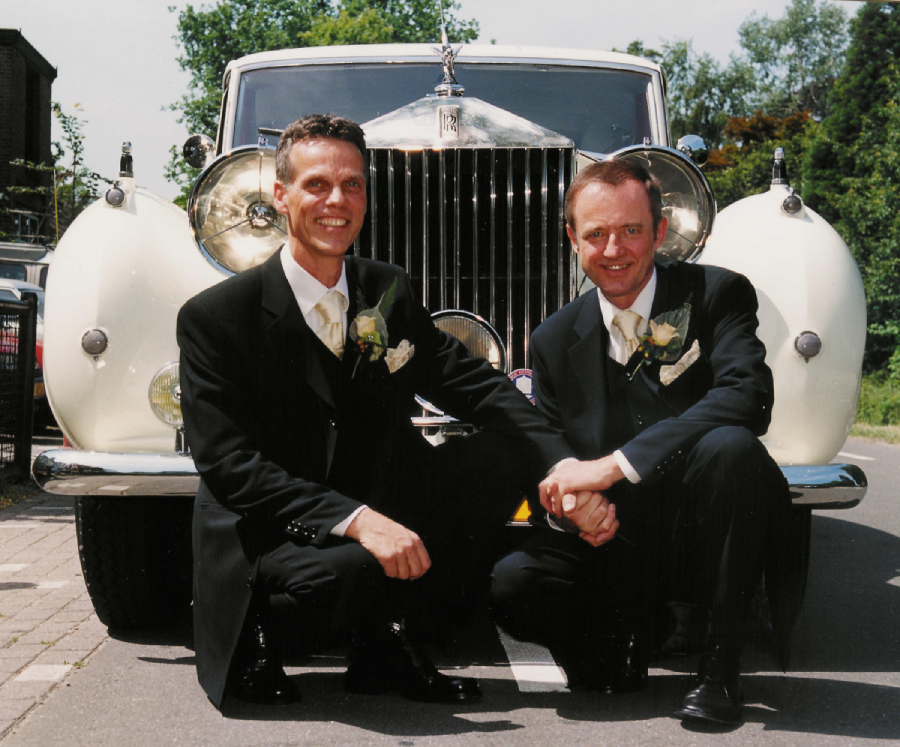 Hoe zag jullie trouwdag eruit in 2001?
Herman: "Het was echt een fantastische zomerse dag in juni. Enorm warm, tegen de 30 graden. Echt schitterend mooi weer."
Ad: "Ik had beloofd de taxi te regelen, waarmee we naar Groenekan gingen waar onze gasten samenkwamen. Maar ik wilde niet zomaar een soort Mercedes huren, dus ik had een antieke Rolls Royce gehuurd. Die auto bleek voorheen van de aartsbisschop van Canterbury te zijn geweest".
Herman: "Daar stonden al onze vrienden op ons te wachten. In Groenekan dronken we met elkaar een kop koffie en maakten al onze gasten kennis met elkaar. Vervolgens vertrokken wij gezamenlijk in een busje richting het stadhuis in Utrecht. Daar zijn we getrouwd in de kleine zaal."
Ad: "Het was een onvergetelijke ceremonie met de meest intieme vrienden. Herman hield het niet droog. Na de ceremonie gingen we terug naar Groenekan. Daar stond een bruidstaart met twee mannetjes erop voor ons klaar. We proostten met roze champagne en genoten daarna van een heerlijk diner.
Herman: "Ik wil nog wel graag iets toevoegen. Op de ochtend van onze trouwdag bezocht ik eerst begraafplaats Moscowa in Arnhem. Wij hadden mooie rozen als corsages. Ik wilde een roos naar het graf van mijn vader brengen, zodat hij alsnog getuige was van ons huwelijk. Toen ik bij zijn graf was met de roos, gebeurde er iets bijzonders. Ik voelde dat mijn vader het goed vond en dat het goed was. Dat was een enorm fijn en bijzonder gevoel. Tijdens de ceremonie was de stoel naast mij leeg, maar ook daar voelde ik weer dat mijn vader bij mij was. Dat was een ontroerende en fijne ervaring".
Wilden jullie voor 2001 al langer met elkaar trouwen?
Herman: "Ja, wij waren ontzettend blij dat het eindelijk kon! Ad en ik sloten bijvoorbeeld wel een samenlevingscontract, maar dat vonden we het vieren niet waard. We wilden écht trouwen. En als er nog iets bestond boven het huwelijk, dan zouden we dat ook met beide handen aangrijpen".
Ad: "Op 14 maart 2022 zijn we 40 jaar samen. Dit willen we goed vieren. Tijdens onze bruiloft hadden we geen huwelijksgeloften die we op deze dag zouden kunnen hernieuwen, want dat is erg Amerikaans. Maar we willen zeker bij dit moment stilstaan".
Wat is het geheim van jullie relatie?
Ad: "In de eerste plaats veel liefde en verder vertrouwen en respecteren wij elkaar. En we laten elkaar vooral in onze waarde."
Herman: "Open communicatie heeft voor ons vooral gewerkt. Dat is mijn advies voor iedereen die deze vraag heeft. Blijf met elkaar communiceren".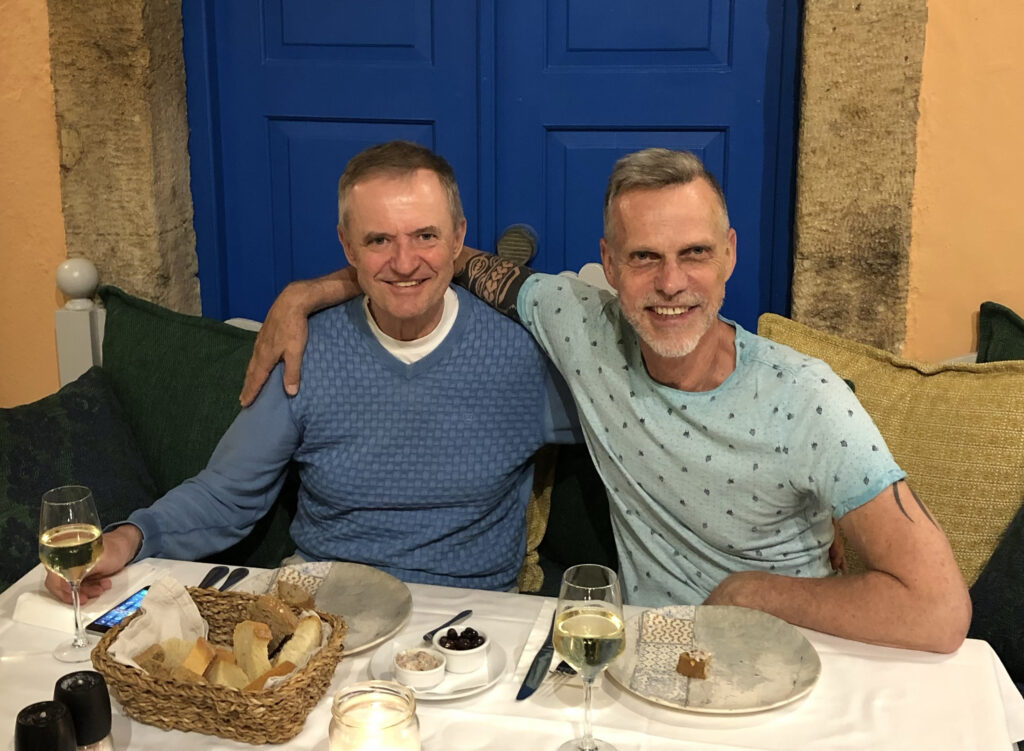 Kregen jullie negatieve opmerkingen rondom jullie huwelijk in 2001?
Herman: "Dat viel wel mee. Die dag was er maar één persoon die afkeurend leek te reageren op ons huwelijk".
Ad: "Wij hebben heel bewust gekozen voor een heel klein gezelschap. Van mijn familie heb ik geen negatieve reacties gehad, behalve van één zus, die erg gelovig was. Zij bood later op haar eigen manier haar excuses aan ons aan. Maar verder kregen wij gelukkig geen enkele negatieve reactie".
Geloven jullie dat de situatie in 2021 verbeterd is ten opzichte van 2001?
Herman: "Was dat maar zo. De situatie is niet makkelijker, want het lijkt alsof er momenteel meer sprake is van agressie en geweld ten opzichte van 2001. Toen leek het of we alles hadden bereikt. Maar nog steeds moeten bijvoorbeeld mannen die hand in hand lopen er rekening mee houden dat ze bespuugd, uitgescholden of bedreigd worden. Dus nee, we zijn er niet op vooruit gegaan."
Ad: "Ik denk er net iets anders over. Het maakt wel uit in welke kringen je verkeert. Gelukkig zie je tegenwoordig ook in tv-reclames in toenemende mate mannen- en vrouwenstellen. Wij hebben nooit echt hand in hand gelopen en we hebben die behoefte ook niet. Maar gelukkig zie ik wel dat steeds meer mensen dat durven."
Herman: "Wij boffen dat we in Utrecht wonen. Op veel plekken in de wereld en zelfs in veel kleinere plaatsen in Nederland is de acceptatie minder groot.
Hoe staan jullie op 1 april 2021 stil bij 20 jaar huwelijksgelijkheid?
Beiden in koor: "Dit is inderdaad een bijzondere dag, maar wij besteden alleen aandacht aan onze jaarlijkse trouwdag. 1 april is voor ons gewoon 1 april".

Herman: "Maar volgend jaar gaan wij een heel bijzondere dag wél uitgebreid vieren. Dat is 14 maart 2022, als we 40 jaar samen zijn. Onthoud die dag maar, haha. Want we verwachten volgend jaar natuurlijk wel een gelukswens!"

Ad: "Weet hij ons adres wel?"

Erik: "Ja, die weet ik. Komt goed!"
Wil je meer zien?
Op onze Instagram– en Facebook-pagina vind je een overzicht van alle foto's, video's en nieuwtjes over dit bijzondere jubileum. Of ga naar onze nieuwspagina.