Een sprookjesboek voor iedereen
Sprookjes kennen we allemaal. En hoewel we van de standaard-klassiekers nog steeds kunnen genieten, is de diversiteit in deze fabels soms nog ver te zoeken. Laat het over aan Hongarije, het land met LHBTIQ+-wetgeving dat ons al enige tijde bezig houdt, om een sprookjesboek te hebben waar elk kind en volwassene zich misschien wel in herkent.
Sprookjesland is van iedereen wordt wel de eigentijdse Alice in Wonderland genoemd. Een prachtig literair boek voor jong en oud, vertellingen die de lezer de normaliteit van de diversiteit in de samenleving onthult. Gender, religie, afkomst, seksuele voorkeur, sociale klasse, huidskleur. Respect komt eenieder toe.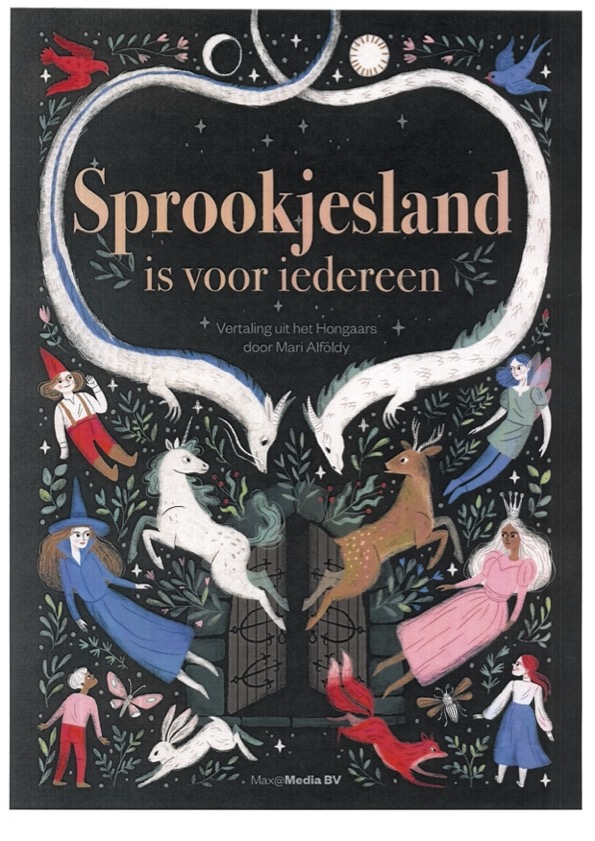 Deze bundel bevat bewerkingen van sprookjes, geschreven door zeventien hedendaagse Hongaarse schrijvers. Ze vertellen over achtergestelde groepen, vaak in de vorm van verhalen die in de moderne tijd zijn geplaatst. Deze sprookjes zijn ook bestemd voor degenen die moeite hebben hun plek in de wereld te vinden. Sneeuwwitje is Bruinblosje; Caineus, de held uit de Griekse mythologie, verandert van meisje in jongen; IJzeren Hansje, in de steek gelaten, wordt geadopteerd door ouders op leeftijd; Driederik, het konijn met drie oren, wordt verstoten door de gemeenschap totdat hij een heldhaftige daad verricht; de stoere vierkante Mammoet redt haar Joodse tengere vriendin Mok van de IJskoning; de gekleurde Roma stiefzoon, verketterd door stiefmoeder en stiefbroers, verovert uiteindelijk de prins op het bal en Kyra en Karlijn tonen hoe belangrijk het is als de rijken de armen helpen.
Dit boek was aanleiding voor de Hongaarse regering van Orban om wetgeving te maken tegen voorlichting over LHBTI aan jongeren en kinderen. Desondanks is Sprookjesland is van iedereen een groot succes in Hongarije.
---
Sprookjesland is van iedereen
Vertaald door Mari Alföldy
Uitgever Matan Publishers
€ 17,95
ISBN: 9789090348827
Het boek kan besteld worden in de boekhandel of via matanpublishers.nl.
---
De Nederlandse editie wordt ondersteund door ambassadeurs:
'Het verbod van discriminatie op grond van seksuele geaardheid staat met zoveel woorden in het Europees Verdrag tot bescherming van de rechten van de mens en fundamentele vrijheden. Hongarije weet dit verduiveld goed. Met mensenrechten en fundamentele vrijheden valt niet te marchanderen of koehandel te bedrijven. Daarvoor zijn ze fundamenteel. Bedrijf de liefde dus, zoals jij het wenst, en beleef je eigen Alice in Wonderland', aldus Gerard Spong, advocaat.
'Vrijheid is kunnen schrijven, schilderen, zingen, dansen en liefhebben zoals je dat zelf wilt', schrijft Robert Vuijsje, schrijver.
'Sprookjesland is van iedereen is een geweldig boek met mooie verhalen en prachtige illustraties. Gelukkig wonen wij in een land waar deze bijzondere verhalen wel gedeeld mogen worden. De meeste mensen leven lang en gelukkig in Nederland en dit kinderboek draagt hier aan bij!', verklaart Samira Bouchibti, voormalig politica en onderwijsdeskundige.